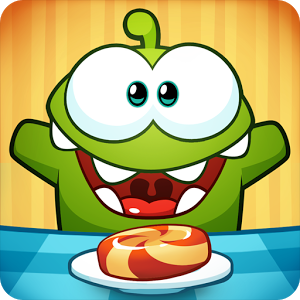 If you already know the hit game Cut the Rope, then you know Om Nom, a friendly creature who loves to eat sweets all the time!
Om Nom, is looking for a new family and therefore needs to be adopted!
Adopt it, take care of it, make it your best friend and don´t forget to offer him sweets!, for sure, he´ll love them.
With Om Nom you'll take care of the most lovely and tender pet of all times. You never took care of a creature like this before!
Bathe him, play with him, feed him and reward him with sweets.
An adorable monster that will accompany you at all times wherever you go.
Om Nom will require your full attention because if you ignore it he will get sick. Pretend it is a real animal as it requires all your care to be healthy and wholesome.
You can also have fun with Om Nelle!, a sweet character that surely will fascinate you.
Be creative and customize your monster giving it a unique and fascinating look. You have dozens of options to choose from and make it really stand out over others.
With your virtual pet you can have fun for hours and care for it as if it really existed!
Visit other players homes and decide who is the best decorator. Decorate Om´s home as you prefer.
You can also entertain yourself with mini games where you must use your memory so that the cookies are equal or be mentally agile to perform combination sets.
Want to know the origin of Om Nom ? completing the proffesor´s missions you'll solve this mystery!
It's impossible to get bored with this application.
Om Nom has everything you need to entertain your evenings and more!
Download Om Nom from Google Play Store and adopt the most lovely pet you've ever imagined.