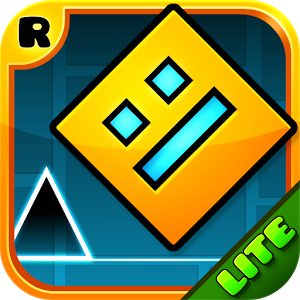 If you like challenges, Geometry Dash Lite is the game you were expecting. This retro platform will test your skills and every time you lose you'll want to try again and again.
Playing is easy, to win, complicated. You must jump and fly through the game and avoid dying with the obstacles that will stand your way.
Music is an important part in the game and you must play to its rhythm.
Customize your characters by unlocking new icons and colors and exceed dozens of levels that will be increasingly difficult.
Get the perfect score and use your intelligence to win.
Create your own levels and share them.
Do not get frustrated if you lose, just try again and again, you can do it!
Get awards and accept the challenge of becoming the best player.
An "impossible" game that will amaze you!
Jump, fly and turn around dodging dangerous obstacles that will intercept your way.
Beware of the dangerous passages and sharp objects. Put all your attention to reach your destination and show that nothing can stop you!
Live action based on the rhythm!
Fly rockets, defy gravity and enjoy to the fullest.
Improve your skills with practice mode.
Challenge yourself in an almost impossible game!
Download Geometry Dash Lite right here and put your mind to work!