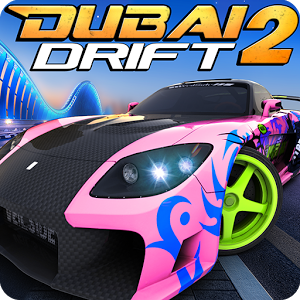 Dubai Drift 2 is back for more! And in this new free game brings you the excitement and adrenaline that only a fan of cars as you can experience.
Enjoy the fully refurbished garage, bigger and more exciting!
Join skidding clubs fight your opponents with the gang.
Would you like to own a club? Believe in yourself and become an undefeated opponent.
Practice and get excited with your best skids.
Become a Premium Player and earn rewards.
Join the global community and make contact with users from all over the world!
Pretend you're in real life and drive your car with inside cameras. Experience a unique feeling!
Dubai Drift 2 will provide a show of explosions and special effects like you never imagined before, this game will make you experience pure excitement and adventure!.
Live each race to the fullest and show off your skills behind the wheel. Do not let anyone or anything stop you.
Accelerate and shine!
The best cars at your disposal, those you always dreamed of are available for you to enjoy to the fullest!
Post your skids on social networks and show the world what you are passionate about.
Be prepared for everything!
Drive your luxury car in one of the most stunning cities in the world, DUBAI.
Give your skid all the color you want, make your skids on fire and use unique colors.
Use slow motion to get the most out of your game.
Invite your friends to join this application that will surely leave you breathless. Live such a real game that will surprise you.
With Dubai Drift 2 any other game will be entertain you.