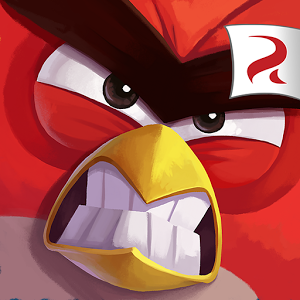 Angry Birds returned to put excitement and entertainment to your evening!
Live again the magic of your favorite characters and feel the adrenaline in a game that has it all.
Angry Birds 2 gives rise to a new era with spectacular graphics and many levels full of challenges and excitement.
More destruction and more pigs boss to defeat and beat levels.
Choose a bird with a slingshot to launch it! Think your strategy very well!
Get extra birds to destroy blocks.
The Pig Island as you never seen it! The most challenging levels with the greatest dangers are waiting for you!
Fight dirty piggies and exceed each of the levels and stages.
The most amazing spells will surprise you!. Blizzards and gold Ducks among others, will help you beat the pigs. You will also receive help from the Star of the game: The Powerful Eagle who loves sardines!.
Compete with your friends or with other players around the world to demonstrate your skills as the best launcher of birds.
Get the first place and leave everyone puzzled with your skills.
Compete every day, exceeds levels and earn feathers. Prove you're the No. 1 in a battle like no other.
Beat the chief pigs! The island is full of them and you need to be smart and use the slingshot to kill them. The famous pigs will want to beat you and keep your eggs. Don´t let them!

Go ahead and give fun to your life with ANGRY BIRDS 2! A challenge which you will find exciting!