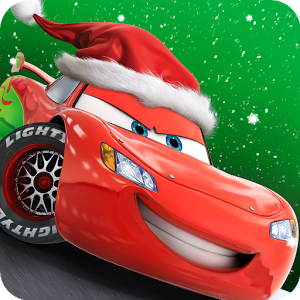 If you're a fan of Cars you'll love this app because you will enjoy your favorite characters in a limitless adventure!
Dare to challenge your friends and enjoy along with Lightning McQueen and Mater organizing a super run show in Radiator Springs.
Live the best of speed and adrenaline enjoying every moment Rocking alone or inviting your friends to participate in this incredible adventure of Cars: Fast as Lightning.
How do you see yourself competing with popular characters from Cars in the fastest race you've ever imagined?
Transform the quiet village on a busy city full of action and adventure and build your own Radiator Springs.
Highlight your skills as the best racer in history and leave your friends speechless!
The official Disney Cars game awaits!
A unique experience that will keep you entertained for hours without interruption with the most colorful characters. Mate, Francesco and his friends are waiting for you to make your day unique!
Incredible animations and voices of great quality , are part of this great application that will entertain both kids and adults.
Lightning McQueen, Francesco Bernoulli and 20 other characters from Cars are available for you to customize and highlight their fabulous bodywork.
Become the best racer of all times with premier cars!
Feel the speed and asphalt under your wheels and discover the amazing surprises awaiting for you. Use Nitro pulses and simple but powerful controls that surely will lead you to victory.
Transform into a real acrobat choosing different circuits consisting of roller coasters and rocky pavements.
Make the most daring stunts in 3D with fun animations.
Compete with your friends and challenge them in a competition like no other.
With this game you will be able to build your own Radiator Springs! With over 30 interactive and super funny buildings.
Enjoy the classic characters from Cars and get ready to enjoy the game of your life with the most entertaining characters!