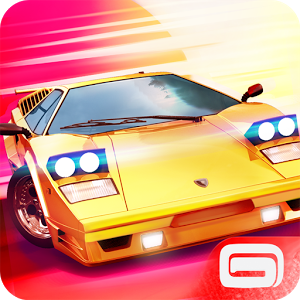 If you're a fan of racing and action, then Asphalt Overdrive will fascinate you! 
A game riddled with excitement and entertainment where you must highlight your skills as a super driver !
Live a unique and exciting experience running from the police in a game set in the California of the 80s!
You must complete missions in this exciting and original game and lead the most sophisticated cars in the world!
Imagine driving a Lamborghini, Countach or Ferrari Testarrosa !!!
This game makes your dreams come true, so start a unique experience and make your mark as a top brand pilot
30 high-performance cars are waiting for you! So get ready for this unique odyssey!
You must meet seven different missions, challenge yourself and exceed missions, running from the police, jumping obstacles, defeating your superiors and proving your courage making the most amazing stunts while running at full speed!
You´ll really love the style of Asphalt Overdrive because you will handle the freeways of Southern California with unique landscapes.
The game is set in the Retro version of the California of the 80´s giving it a highly original style.
Lighting and particle effects in real time makes it a game with amazing graphics and very striking.
Challenge friends on Facebook and show them and yourself how good you are!
Get weekly targets riddled of action and adventure and join your friends! Invite them and see how fascinated they´ll become with this game ! share with them your goals and objectives.
With Asphalt Overdrive you can record your progress and build on league championships while you show your skills as a super driver.
Would you like to move up to the top of the ranking? compete in different events and show everyone what you're capable of!
This game created especially for car lovers keep you entertained for hours! It is highly addictive and will make you want to get more further.
Asphalt Overdrive is a game fraught with emotion, action and adventure and the best of all it´s FREE!
Be sure to download it via Google Play Store, it will take only a few seconds and start running the race of your life!