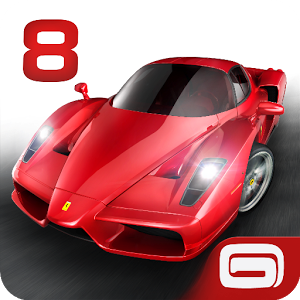 Entertainment and adventure gathered together to make you live unique moments full of adrenaline.
Asphalt 8: Airborne has come to make your life more entertaining.
The most amazing stunts you can carry them out with your favorite car.
These cars have the maximum power and speed and will help you get the highest score among your opponents.
Enjoy 56 high performance cars with unique style.
The most exclusive brands!
– Bugatti Veyron.
–Ferrari FXX.
–Poison -Lamborghini
and many more.
Real engine sounds that will imitate live racing like you never imagined.
Challenge gravity and use the ramps so that your game is played almost in the air.
Incredible jumps and spins of 360 degrees.
Compete as you always dreamed of performing almost impossible maneuvers and unique stunts.
You have 9 different scenarios to compete!
.Island.
.Venice.
.The Nevada desert and many others.
Discover hidden shortcuts and territories, graphics as you´ve never seen before with geometric real-time reflections and unique effects that will surprise you.
New modes Infection and Skids.
Play in multiplayer system with up to 8 real rivals.
Challenge your friends and prove that you're the best driver of all times.
Compare your score and get the first place.
Become an infernal speed machine and exceed all your opponents.
The best songs will be accompanying you in your game to add excitement to your game.
Go ahead and download Asphalt 8: Airborne FREE, a game specially designed for lovers of cars, racing and adrenaline!
Start playing now and let action begin!