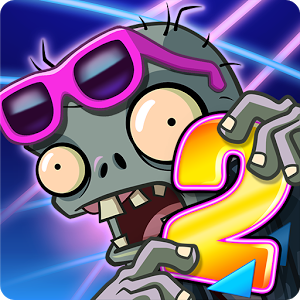 After the incredible success of Plants vs. Zombies comes PLANTS VS ZOMBIES 2. More excitement and twice action!
Continue the adventure of the first edition but this time with double the excitement and adrenaline.
A game that has already received more than 30 awards for best application and more than 100 million downloads!
Protect your brain reloading your plants with nutrients,get a lot of them and go out to defend yourself from the zombie attack that will try to defeat you at all cost!
Legions of hungry zombies will haunt you and you must defend yourself to survive.
Make integrated purchases to add more elements or deactivate the option from your device.
New plants and new zombies are waiting for you to fight!
Plan your best strategy and amaze everyone with your skills. Protect your brain using your cunning and join the plants that will be your allies.
Overcome obstacles and levels to score points and become the best player.
Use the nutrients to recharge your plants and combat zombies!
Use the mini game and defeat the crowd of zombies that haunt you!
Enhancers are waiting for you to defend yourself better, use them wisely and prove you're the winner.
Unlock your Zen garden beating zombies and collecting outbreaks. Plant them and get major defense weapons.
Complete missions and battle Dr. Zombie, the worst ever !. Defeat him and test your skills.
Plants vs Zombies 2 is definitely the game of the moment.
Download it free and give way to action!