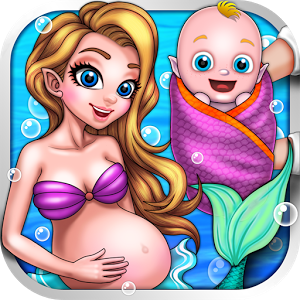 Do you like little babies and always dreamed of looking after them and taking care of them? Then you will love Mermaid's Newborn Baby Doctor!

A very emotional game where you will not only take care of the newborn baby but also of its siren mommy
Siren mom will give birth soon and you must help her take care of her needs with her newborn baby. Bathing, feeding him, making the necessary check up and more.
Think she is very tired, yet excited and happy about the arrival of their new son!
Help her to pass the time as best as possible and to fully enjoy her baby.
Have fun for hours being part of an exciting adventure.
Invite your friends and play with them to be the best doctors in newborn babies!
A place full of excitement and fun awaits you.
Mermaid's Newborn Baby Doctor is definitely the game that all girls are waiting for.
Go ahead and download Mermaid's Newborn Baby Doctor FREE from Google Play.
In just a few seconds you'll enjoy one of the cutest games of all times!
A game that for sure will bring out the best in you!