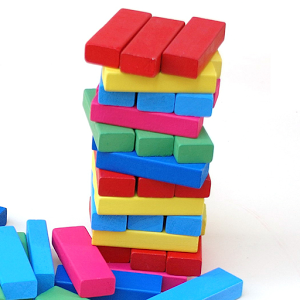 Who hasn´t heard about the classic game Jenga?
A skill game were you´ll have to put your brain to work and show your abilities to others.
It can be played starting by two players and you must remove blocks from a tower by turns and place them at the top of the it.
The key is to prevent the tower from falling cause if this happens you lose.
You play with 54 wooden blocks which are placed crosswise, they have to form a square when placed together until they form a tower of 18 hight levels.
Each player must remove a block from the bottom of the tower with only two fingers and place it at the superior part of it to make the tower grow.
Remember that who makes the tower fall down, loses.
It´s important to play in a smooth surface to keep the balance of the tower.
In your mobile device this game is very similar only that you won´t need a surface to play and you must play sliding your finger on the screen.
Take into account the following:
In the first place you must click a block with your finger to selecct it. Click again on the block and slide your finger to move it.
Select the block at the top and slide your finger down to place it. This is a simple game but it requires a lot of ability and mental concentration.
You can play alone or against an opponent.
This entertaining game is available FREE in your Android and you can download it and take it with you wherever you want!
Any time you want to have a good time , play Jenga!
How to download Jenga?:
It´s very easy!, look up for Jenga in the app of Google Play Store in your mobile device. Click Download and in just a few seconds the game will be ready for you to play!
Our free app of jenga assures hours of fun as it is ideal to play at any moment of the day!
Do not doubt in downloading this amazing game, it´s the ideal companion when you are waiting for someone or just when you feel bored.
It´s free and easy to download!