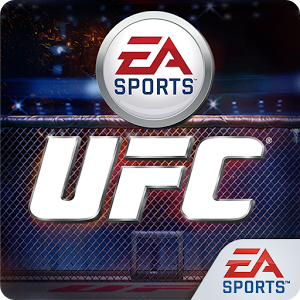 All your favorite UFC fighters joined in a game that will thrill you !. Choose the one you prefer, your maximum idol will play with you defeating his rivals!
Live games and shocking fighting in an application that will bring out the fighter in you giving you unique rewards.
With EA Sports UFC you'll feel like you're really fighting in the Octagon !. Enjoy the fantastic HD graphics that will make you live a real game.
Veterans and novice fans will enjoy these battles as never before in a thrilling dynamic full of action!.
Show how good fighter you are, choose from more than 70 top-level fighters and win the first place!
Marvel with the movements of the most famous fighters. Become the winner beating you enemies.
Build your legacy in the UFC, knocking enemies, unlocking opponents, winning more coins and acquiring skills.
EA SPORTS UFC allows you to be part of the fighting world making your dreams come true.
Increase your benefits beating levels and playing more. Play the best tournaments in live events and get great rewards.
Beat your opponents and hone your skills. The more you ascend in the game, the greatest achievements you´ll get.
You can play as many times as you want without a limit of lives !
At any time you can give battle and become the best fighter in the UFC.
Play with your friends and show off your skills. No one can beat you!
With EA Sports UFC your hours of fun are guaranteed.
Download this app free using your Google Play Store.
Get ready to win … NOW !