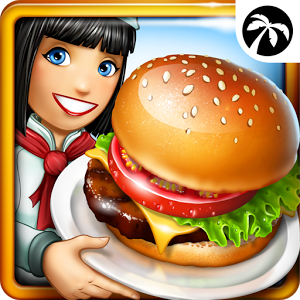 Do you Like cooking and delighting yourself with delicious courses? Cooking Fever is an addictive game full of delicious flavors where you can show off as a great chef preparing your favorite food.
8 exclusive restaurants where you will prepare exotic courses, desserts and fast food.
Be part of this unique culinary adventure!
What do you prefer? seafood or an oriental restaurant? you´ll have a variety of options to choose.
Dominate different cooking techniques and use dozens of ingredients to prepare the most delicious courses.
A good chef needs of modern machinery to prepare his food so you´ll have the option of cooking your best meals with the appropriate installations.
Pizza ovens,coffee machines and many other appliances are available for you.
A restaurant requires a good decoration to attract customers so decorate your place the way you like most and turn it into the center of attraction!
Create your own free food and delicious cupcakes everybody will talk about!
Perform more than 400 meals and desserts with over 150 ingredients.
Unique locations where you can find:
-Restaurant Fast food.
– Chinese Restaurant.
–Sea Food
Indian Restaurant.
-Pizza
-Coffee Shop.
-Sushi Restaurant.
-Pastry Shop.
Complete over 300 levels of fun and creativity.
Hundreds of improvements to your kitchen so your courses look really special,
Cooking Fever is a game that will keep you entertained for hours!
A fever of flavor at your disposal!
With Cooking Fever share your favorite dishes on social networks and bring out your culinary skills.