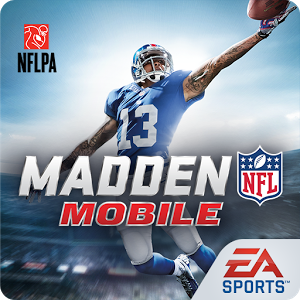 Experience the magic and feel the thrill of being part of the best football teams achieving incredible results.
Madden NFL takes to your mobile the real challenge of forming the best soccer teams with real star players and legends of all times.
Become a coach and create your dream team. Choose the best team and get ready to win!
You can play anytime and anywhere even in live events.
Walk the path to the Super Bowly and start your Madden season!
You had never experienced something like this before, a game plagued with emotion and feeling as only football can achieve.
Every day throughout the year you can get connected to the NFL, playing in live events and achieving significant rewards.
Experience the REAL NFL season.
Reach the podium and demonstrate that your team is the best!
You can choose the most famous players of recent times and football legends. Strive to be the best manager and lead your team to success.
Compete against your friends, become their envy and introduce them your dream team.
Only you are able to generate the best plays and reach the top.
Join a league or compete against each other, face to face, in 16 real games.
American Football has never been so exciting.
Download this free application from Goggle Play Store HERE.