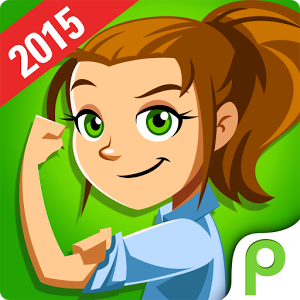 If you've always wanted to own a restaurant and make it a real success this is the game you've been waiting for!
A new edition of Diner Dash is available for you to help Flo keep her restaurant afloat and leave diners satisfied.
Enjoy this renewed application that has already become a hit worldwide and brings out your culinary skills.
Put on your apron and let the fun begin! Prepare the most exotic dishes, lunch, dinner and breakfast prepared for the most demanding customers. Offer fast and efficient service and earn big tips to prevent other fast food restaurants invade your town!
Diner Dash is an original, free game, full of challenges, please your VIP customers and those who are only going to rock the room. To maintain your restaurant´s level depends only on you!
Exceed more than 90 levels spread across three restaurants. Show off your skills and abilities to solve problems in the quickest way. Get ready for new challenges and prove you're the best.Do not let your customers grow impatient!
Cater their dining needs and respect the established time.
Over 20 customers with different personalities will be present for you to fulfill your demands. Weird characters such as Hennui the antisocial who has no courage to sit down or the evil Skip who is so stingy he won´t want to pay the bill!
You´ll also meet VIPs, movie stars and food critics who will go to your restaurant to be served in the best way, so do not be distracted because you can earn big tips and rewards!
New boosters are at your disposal, use them to increase your speed and skills and to overcome obstacles more easily!
Join Trappo who will help you clean the floor and take advantage of using other devices to help the chef cook faster.

If you want you can play with your friends on social networks, connect with Facebook and help them advance by sending them gifts and prizes.
At the same time compete with them and show them you are the best!

What are you waiting for to become part of one of the funniest games ever?
Download it for free right now from the Google Play application and in just a few seconds you will be ready to make your restaurant the best in town!