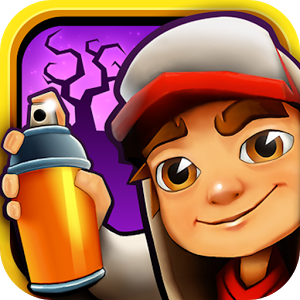 If you love games were you have to escape from the police, use your skateboard and  your graffiti spray, Subway Surfers is then the ideal game for you!
Adventure, action and excitement characterizes this game were Jake, a young graffiti artist who must escape from a security guard and his evil dog. Jake has no plans to surrender therefore he flees and runs half the world with super skateboard.
You ( as Jake ) must avoid obstacles, jump the fences and dodge trains while you collect as many coins you find along the way.
You can not hit againts the wagons because if that happens, the guard will catch you.
You must run without stopping and overcome all obstacles in your way.
It is very important to pick up as many coins  you can for they can serve you to buy items to improve your character, plus you can use your skate and a jet pack.
The skate is perhaps the most prominent element within the game because it will become more agile and fun. You can surf through the channels and glide faster.
Subway Surfers is updated regularly so it´s not so repetitive and at the same time it provides a new and fresh scenario.
Jake travels to cities around the world such as New York, Sydney, Rome, Tokyo, Rio de Janeiro, Beijing, Miami, Paris, London, Moscow, New Orleans and even more that will be added soon to the game.
In Subway Surfers festivities such as Halloween also counts and the characters will dress up with costumes for this special date.
How to Play Subway Surfers?
It's simple !, you should just slide your finger on the screen depending on the direction in which you want to send the character. Slide it up to jump, Down to roll under fences and side to side to dodge the trains.
Each level you complete will be even more difficult than the last, as it will increase the speed and number of obstacles to avoid.
At the same time it has a very attractive dynamic and their characters and colors are appealing to users. The characters emulate cartoons giving them a striking appearance.
Subway surfers is a free application available on your Android. Download it now from the Google Play Store and get ready for the greatest adventure of your life on wheels!