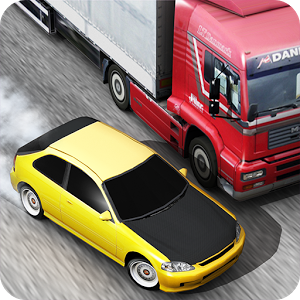 If you like the speed and the adrenaline this is undoubtedly the game you were waiting for.
Traffic Racer will make you live unique moments full of emotion and adrenaline while you lead your car through infernal roads. Save money, change your car or purchase a new one!
Lead the charts and turn into the fastest racing driver. Enjoy a game that offers you endless races and where  the main figure is yourself!
Show your friends that you are the best pilot, evade other vehicles and reach an insuperable speed. Spectacular 3D graphs will make you live a real adventure. You have 33 models to choose from, the car of your dreams awaits you!
Designs of unique, modern and realistic cars will impress you.
In what environment do you prefer to drive? In the suburbs?, in the snow?, under rain?, or do you prefer to drive in the city by night? Each of the environments is magic and they will make you live exciting moments.
Play in the mode you like most: endless, two routes, against the clock, police chase and free ride.
Customization of wheels and painting, incredible cars and trucks that will leave you speechless! You will be able to visualize the achievements and classification charts online. Touch the gas button to accelerate and the break bottom to move slow. The faster you drive, the more points you accumulate!
Drive up to 100km/hour and exceed vehicles to obtain money and bonus extras. Do not wait any longer and download theTraffic Racer from Google Play, a game that will not stop surprising you!