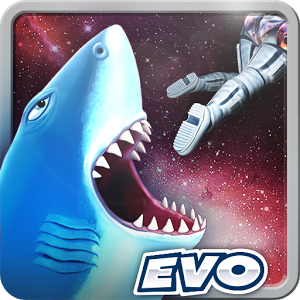 If you like adventure and sharks this is undoubtedly the game you were waiting for!
With Hungry Shark Evolution your days will turn more entertaining and full of action.
Control a hungry shark which only desire is to eat everything what he finds and defeat mercilessly all those who stands in his way!
Choose between several sharks to evolve and play with them, between them, the Hammer shark, the great White shark and many more!
Submerge in this aquatic adventure riddled with emotion. Handle your shark and add score to reach the first place. Enjoy spectacular 3D graphs that will take your game to the limit.
Unlock 12 different species of them.
Terrify the world with your fierce shark.
Discover 15 treasures hidden at the bottom of the sea.
Complete more than 75 missions and turn into the undiscussed winner of the game!
Personalize your sharks with eccentric objects.
Increase your power of predator unblocking baby sharks!
Don´t wait any longer and compete with your friends to see which one of you has the most fierce shark!
Millions of people around the world already have downloaded Hungry Shark Evolution, a game without equal!
Enjoy hours of amusement in an application that you will not be able to stop playing!
Download it now, free, from Google Play Store and let the action begin!