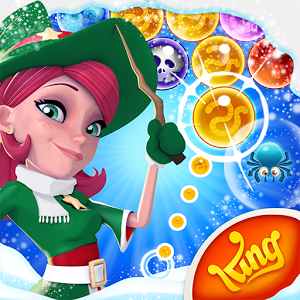 If you are fan of Candy Crush Saga, you will love Bubble Witch 2 Saga without any doubt!
This free game will keep you entertained for hours and you will discover the maximum fun you could ever experience.
A bubbly magic from which you will not be able to escape so easily!
Help Stella and her cats chase the dark spirits that threaten their lands exploting as much  bubbles as you can traveling through her kingdom in an unparalleled adventure.
Explore the kingdom and get the maximum score.
Challenge your friends in this passionate odyssey and show them you are the best.. Enjoy the excellent design, graphics and vibrant colors that will leave you spellbound Go completing all levels and release the country of witches!
Over 60 levels that will ensure hours of fun!
Do not let Estela stay sad, make her happy with your achievements and scores!
Your friends will be amazed at how good you are beating levels, challenge them in this game that will make you play for hours!
Take advantage of boosters and special bubbles that will give you the necessary powers to overcome the most difficult levels.
Share your achievements in social networks and with your friends.
Compete with them and watch your score, dare to overcome them!
Dominate the country of witches, seems easy but it is not so this is your time show the best of you and get the first place!
Test your skills as a player and become a winner.
Thousands of people in the world already downloaded Bubble Witch 2 Saga from Google Play Store, you can not stay out!