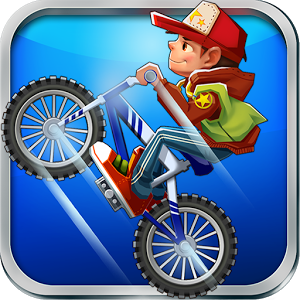 If you're a fan of bikes, racing and stunts you will love BMX Extreme cause it ensures hours of unlimited fun!
You can demonstrate your qualities anytime, anywhere and feel like a real professional in your BMX!
A game that has absolutely everything you´ve always wanted and that you´ll be able to demonstrate with your bike BMX Extreme.
Your favorite bike is waiting for you! Do not miss the opportunity to live this unique experience full of action and entertainment.
Experience the adrenaline caused by intense racing and stunts and get the best score!
¡Compete with your friends and show them you are the leader and that you are able to overcome all obstacles and get through levels while you add points! You´ll see how they´ll also want to control their own BMX!
Make stunts, overcome obstacles and get the first place!
Hours of fun await you!
Get on your BMX and become the best acrobat!
It is one of the best bike games of the moment you´ll really love it!
3D Models, unique tricks, awesome soundtrack.
Make the most ambitious and difficult tricks. Skip obstacles and get as many points as possible You can!
Train, play, and overcome levels, it will really fascinate you!
Share your achievements with your friends and challenge them in this unique ride full of surprises!
Play racing, and make the most daring and original stunts like you never imagined before.
¡Compete with 3D models that will actually make you feel in a real BMX race!
Challenge your friends and let the action and adrenaline take over you.
Different landscapes and scenery will be present to achieve an excellent visual effect
¡Overcome 45 challenging levels that are hoping you show your skills as an acrobat!
¡With BMX Extreme you can take your skills to the extreme and become number 1 in this game!
Easy to play but with many challenges that must be overcome if you want to become the best acrobat of all times
 Start living now the magic and thrill of a competition that will leave you breathless!