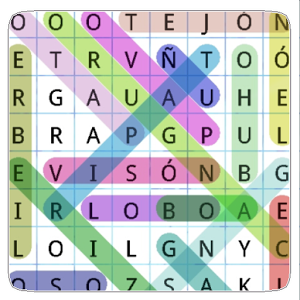 Have fun with this classic alphabet soup game, a fun way to spend your time while you enjoy your free hour , or while you wait for someone or just if you want to use your wit.
This application designed for Android is FREE and you can download it via Google Play Store. It is very easy and unloading it will take only a few seconds.
Download it now and get rid of boredom! Invite your friends and compete with them.
This super alphabet soup features 13 themes , these are:
Historical figures, Animals, Cities of the world Cities of Spain, World, English for children, names, brands, Elements, Astronomy, cartoon characters, Geography, Sports Professions.
At the same time there are three different difficulty levels: Easy, Medium and Difficult, chose which level you prefer when playing.
How to play the alphabet soup:
It´s very easy, as it consists in forming words horizontally, vertically and crosswise inside a grid with lots of single words. There are two play modes, in the first place you´ll have the list of words where the pending words to find will be shown and secondly you´ll have the number of the rest of the words that is the words you should find.
Then you have two methods : The self-generation method where we see the maximum number where the board is filled with the maximum number of words and the Limited method where the board is filled with a number of words proportional to its size.
Alphabet Soup is available in several languages​​: Catalan, Spanish, English, Italian, French and Portuguese so you have no excuse if you do not have this fun game downloaded on your phone.
Each word you find will be marked with a different color, you can compete against other players and show off your skills in this game!
Each time you play you will automatically calculate your score and it will be registered in the database to find out what position you are in relation to other players
If you cannot continue the game, don´t worry! Since this application allows you to stop the game and then resume it any time you want!
Start a new game or continue with the previous one.
Do not miss this fantastic app! Now you won´t need to use pen and paper to play alphabet soup as with your Android we guarantee you fun and the best of all FREE!