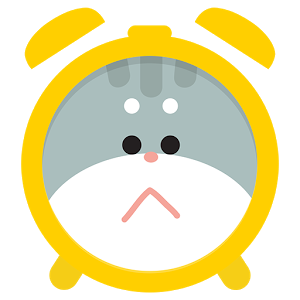 Meet AlarmMon, the clock which already has over 21 million users worldwide!
We know that sometimes when we need to wake up early we don´t always do it in a good way, as we prefer to continue sleeping and that's when our alarm clock becomes a kind of enemy which bothers us each morning.
Now with AlarmMon you can wake up the best way since this app serves to brighten your morning.
Do you have difficulties in waking up early? With AlarmMon its simpler as it is the only alarm clock that rewards you for waking up in time!
Start your day with fun games and get rewards.
Choose the animal that will be responsible for waking you up and help him from falling, waking up in time! 
In Addition, each time you do so you´ll score points and awards that will surprise you!
You will be responsible in saving its life if you do not wake up in time, so, through a fun game That will begin as soon as the alarm sounds, you'll be motivated to wake up scoring points and winning prices.
Enjoy the different alarm melodies that AlarmMon has for you. You´ll never get bored of its alarms as you can choose from dozens of them.
Share your alarm history and results.
AlarmMon rewards you for waking up in time!
Enjoy other features incorporated in this app, as the timer, weather and news of the day.
Transform your boring Monday into a morning full of fun!
AlarmMon Makes it possible!
Its simple but modern and colorful interface will fascinate you and at the same time it will give your Android that special touch.
Use this application as if it were a game, with rewards points and prizes.
Staying asleep is no longer an option!
Download HERE AlarmMon free from Google Play Store and put color to your mornings!