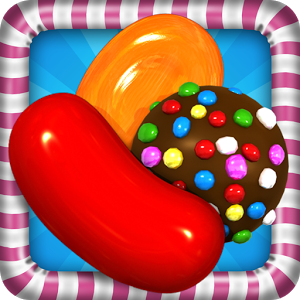 Candy Crush Saga is without any doubt one of the most revolutionary games in the virtual market.
Developed by King in 2012, this app which has been created for PC´s and mobile devices such as Apple and Android counts with over 150 million unique users and 54 million people who plays it daily becoming the number 1 app for Google Play and Apple Store.
Also, Candy Crush has overtake games in Facebook such as Farm Ville 2, with almost 73 million "likes".
It´s a highly addictive game that once you´ve downloaded on your mobile you wont be able to stop playing!
This game basically consists of joining groups of three candies of the same color and eliminating them.
We´ve got 5 lives and each time we beat a level we jump to another one which is a little bit more complicated.
Hundreds are the levels of Candy Crush, exceeding the number of 500 and it was thought for people who dare to play during hours showing their skills.
Once we´ve lost 5 lives we should wait half an hour until Candy Crush grants us another one, or ( and here is the secret of the success of Candy Crush) you can buy a life to immediately continue with the game, making Candy Crush generate millions of dollars a month.
There´s another way of getting lives in a quick and easy way: through Facebook.
Candy Crush is a free app but we can buy, if we want, lives and boosters which will help us get more practice in the game and make it easier.
To play Candy Crush we must exchange positions between two sweets to form a line of three of the same color. This will make them disappear making the candies above fall down.
Movements can only be made horizontally and vertically and the target consists of completing the level before we ran out of movements ( lives) or time, like its the case of timed levels.
If enough score is obtained we can achieve one of the three stars found in the scoring system.
With each level obstacles and difficulties grow, turning this game into a still much more entertaining and interesting app.
This app was perfectly designed with it´s sweets and colors causing a great eye impact in its users.
Because of this it becomes an addictive game and though it looks simple, it really traps you!
It will surprise you and in many cases you´ll spend hours trying to beat its levels!
You now know that if there exists a super addictive and entertaining game this is it!
Downloaded it for free through your Google Play Store.
Candy Crush Saga adds every day thousands of fans around the world, do not let yourself be left out!