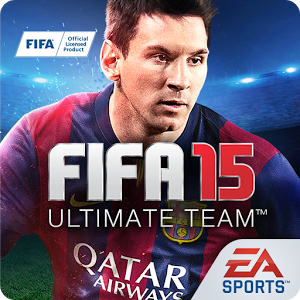 Do you like sports games especially football? Have you dreamed about becoming a great coach and live the football match of your life? Then you should know FIFA 15, the super football game with over 10,000 players from more than 500 official teams, 30 leagues and real stadiums!
Form the team of your dreams with the best players in the world.Test it and prove you're the best coach ever!
Try this fantastic game on Google Play for FREE. Collect real super-stars, make them play on your team and highlight their moves. Enjoy the German Bundesliga, the English Premier Leage and others and begin to experience the thrill and excitement of football !
You choose your dream team, its form training and its stars.
Become a great coach testing your skills. Watch as the game develops, lead your team and make intelligent trades.
To make your match a success depends only on you, so leave everything on the court and make accurate technical adjustments. You will need to take the best of your team if you want to achieve favorable results.
Are you a fan of Lionel Messi? Include him in your team!
With Fifa 15, get excited about your achievements, test your skills, and play the game in such a real way you would have never imagined!
Exceed levels and concentrate increasingly in each game.
Take on your favorite teams or your opponents to beat them!
Watch as the crowd goes wild, see how they cheer for their favorite football players and listen to the football rapporteurs give opinions on the game just as it happens in real life!
Witness real reactions and unique connections between players throughout the game, feel the real thrill of being inside a court managing the football match of your dreams!
Each element will make this the most realistic game you've ever experienced. From the mud, which permeate into the players with their moves, the court, and the fans. All these will transform the environment into something extremely real.
Download  Fifa 15  from the Google Play Store application on your phone. It's FREE and extremely simple to download. It will take just a few seconds. Try to have space available to download the game properly.
Go ahead and experience the thrill of leading the team of your life!